August 6, 2021
Posted by:

LCAP

Category:

News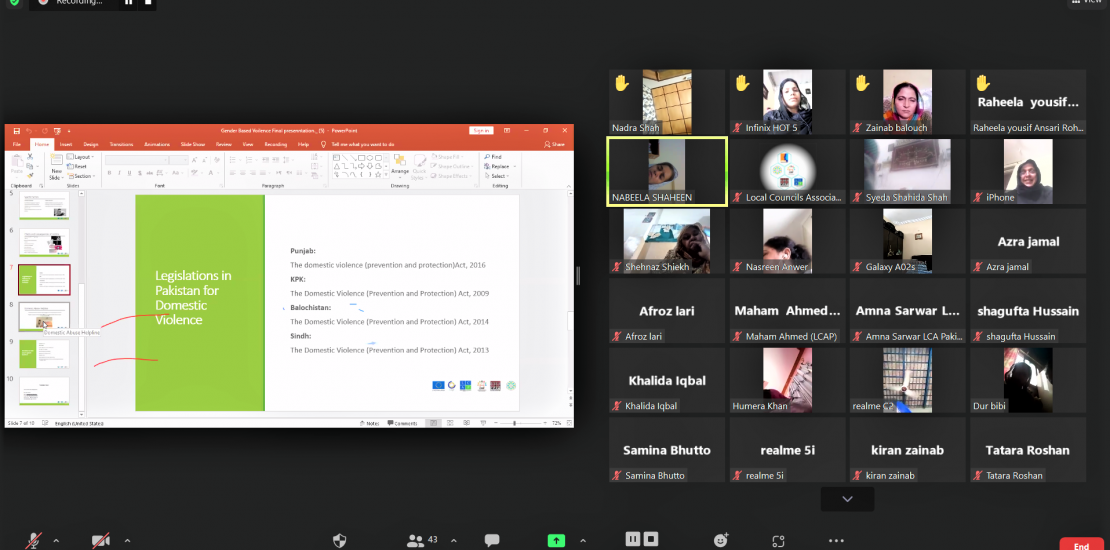 On 6th August 202, LCAs have arranged a virtual session to create awareness regarding this sensitive topic of "Violence Against Women". LCAs have always worked to empower women in our society in all spheres of life. Women in our society tend to experience gender-based violence and domestic violence. Ms. Maham Ahmed (Women and Minority Inclusion Officer) started the meeting by briefing the objectives and importance of this workshop. The workshop was then handed over to our expert Ms. Nabeela Shaheen. Women councillors across Pakistan participated in the session virtually.
The Workshop had the following main thematic areas: Gender-based violence; Any type of violence in exploiting unequal power relationships between gender. Domestic violence encompasses; Intimate Partner Violence; Family Violence; Description about forms of violence and abuse factors associated with intimate partner violence and sexual violence against women further.
She discussed the Effects and Consequences of Victims and explained case studies, Legislations in Pakistan for Domestic Violence, and Domestic Abuse Helpline.
The meeting was about gender-based violence and domestic violence, problems that women face, gender inequality, and solutions to overcome domestic violence in our society. In the end, she presented a pictorial representation of current misdoings happening in our country against women. An interactive session with our women councilors has also been conducted. Women Councillors have shared personal and professional problems leading to a discussion on solutions.".